about us
I'm the voice behind Holy Hustle. And I'm on a mission to help 10,000 Christian Entrepreneurs build an audience of raving fans and turn it into a 6 or 7-figures business that changes the world.
Welcome To My World!
My name is Alejandro, and I'm here to help you turn your God-given gifts, expertise, and passions into a thriving 6 or 7-figure business that changes the world.
As a digital marketing strategist, I've helped countless course creators, coaches, and consultants build and scale their online businesses without burning out.
I believe that faith and business go hand in hand, and that's why I've created the Holy Hustle Podcast and the Holy Hustle Newsletter, where I share insights on how to integrate biblical principles into your business.
My experience working with major brands like Disney, Target, Walmart, Hillsong, Christine Caine, Carey Nieuwhof, and other influential leaders and brands has given me a deep understanding of what it takes to grow and scale businesses fast.
One of my proudest moments was building the digital strategy that took an unknown startup to $100 million in revenue. Now, I'm taking that word-class/enterprise-level thinking and helping course creators and coaches scale their businesses faster than ever before.
I've spent over $7 million in advertising, built two 6-figure businesses and sold one of them, and even built a YouTube following of over 35,000 subscribers and 20 million views (that just means that I know how to get attention and turn that attention into a money-making audience).
But for me, family is everything. I live with my wife Sarah and daughters Sadie and Bella in Richland, Washington. And it's my commitment to my faith and my family that drives my mission to help 10,000 Christian entrepreneurs build a 6-figure business.
If you've come here to build a money-making audience while making a difference in the world, you've come to the right place.
You'll get access to exclusive content, resources, and support that will help you achieve your business goals faster and more efficiently than ever before.
Let's build the business and life you've always dreamed of, together.
Word On The Street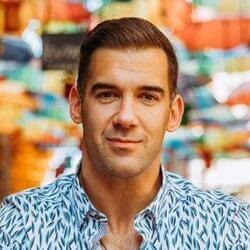 "There are a lot of people that proclaim to be a 'social media expert,' but the fact of the matter is that Alejandro actually is one! For starters, he takes massive action and implements the latest and greatest tools…He builds a large niche following and leads them to take action on something specific."
LEWIS HOWES
The School of Greatness Podcast
"Alejandro is THE social media maven – and I don't say that lightly. He's my "go-to" guy for creating a social media strategy that gets eyeballs, press, and coverage. He knows how to use, implement, and completely has mastered the art of Social Media. He's the guy you want to pay attention when it comes to "getting" attention."
CHRIS BRISSON
CEO, SalesMSG
"Alejandro is a maestro of marketing and his results are world class. I watched him engineer his own social media marketing service to becoming audience's most sought after social media expert."
JUSTIN BROOKE
Founder, AdSkills